Written by: Andre Viljoen
Article source: gatewaynews.co.za
A prayer rally for Israel in Sea Point, Cape Town yesterday was cancelled by police before it started after militant Palestine supporters — some carrying Hamas, ISIS and Hezbollah flags — illegally invaded the venue and engaged in violent behaviour when asked to disperse.
Palestine supporters started arriving at the Sea Point promenade just after 11am and their numbers soon swelled to over 1 000 people at the venue ahead of the scheduled 2.30pm prayer rally organised by the Concerned Clergy of the Western Cape, the International Christian Embassy Jerusalem (ICEJ) South Africa, Bridges for Peace and South African Friends of Israel.
Only a few Israel supporters were in the area at the time the pro-Palestinian group arrived. According to SAFI, Israel supporters were assaulted and threatened by the Palestine supporters.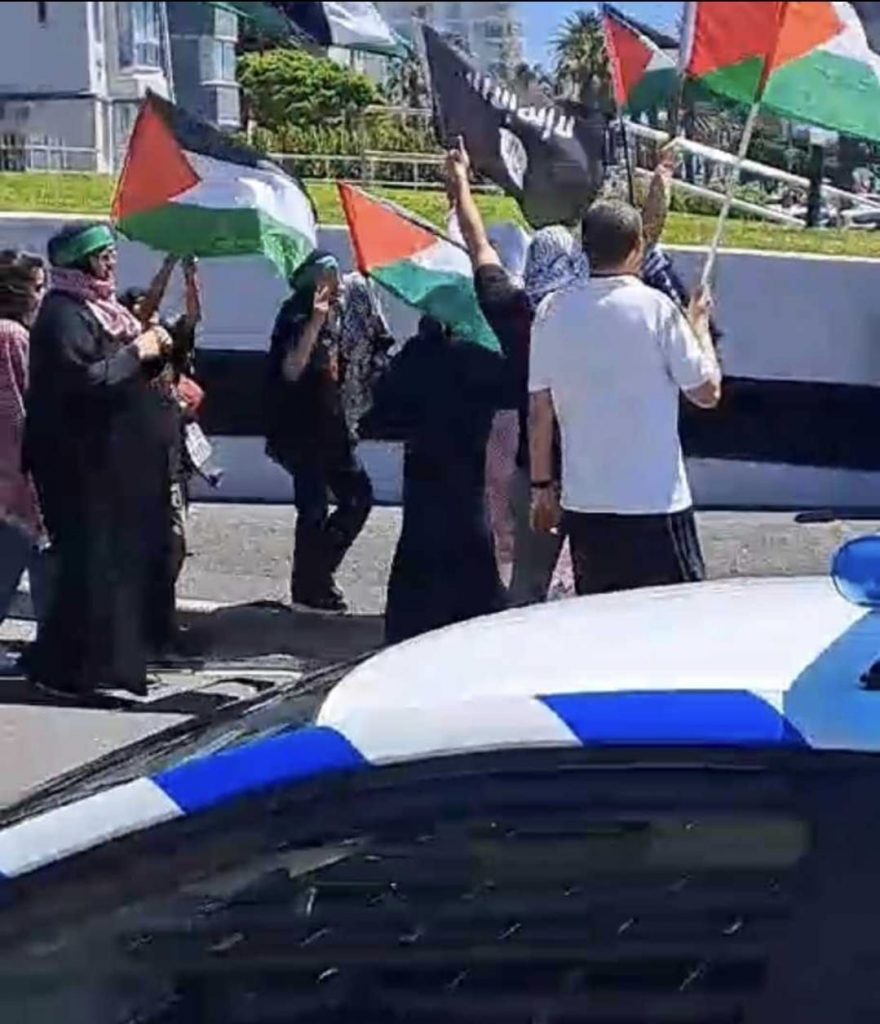 ISIS and Palestine flags on display by protestors who disrupted planned prayer event in Sea Point yesterday
The day before the disruption of the official prayer event in Sea Point, tens of thousands of Palestinian supporters participated in a legal march through central Cape Town without any interference by supporters of Israel.
According to media reports police used stun grenades and water cannon yesterday on pro-Palestine protestors who refused to disperse and several people were arrested for public violence and at least two guns were confiscated.
Vivienne Myburgh national director of ICEJ South Africa said yesterday: "Our event was totally hijacked this afternoon. It was cancelled before it began."
The rally was to stand in solidarity with Israel after the nation suffered brutal attacks by Hamas on October 7 and to pray for the release of more than 240 Israeli hostages still held in Gaza.
Ahead of the planned Sea Point event, Myburgh told Gateway News that they were urging Christians to unite in support of Israel at the rally at a time of "rising antisemitism, lies, a media onslaught and anti-Israel protests going on worldwide".
She said there were only about 10 people at the prayer gathering venue yesterday when the Palestine supporters arrived. More than 2 500 people were expected to join the prayer but buses carrying Israel supporters were turned away by the police and the event was cancelled before it could start.
She said an elderly man's finger was broken as pro-Palestine protestors tried to rip away the Israeli flag he was carrying.
"Others were threatened with being shot (the Imam actually had a gun on him) and another guy was slightly stabbed in his arm with a knife," she said.
The small group of Christians at the venue ahead of the prayer rally had to be escorted out of the area for their safety, she said.
She said Mandla Mandela, grandson of Nelson Mandela, was among the pro-Palestine supporters and that she believed many of them were there in response to a call he had made at Saturday's pro-Palestine march for people to turn out to disrupt yesterday's prayer rally.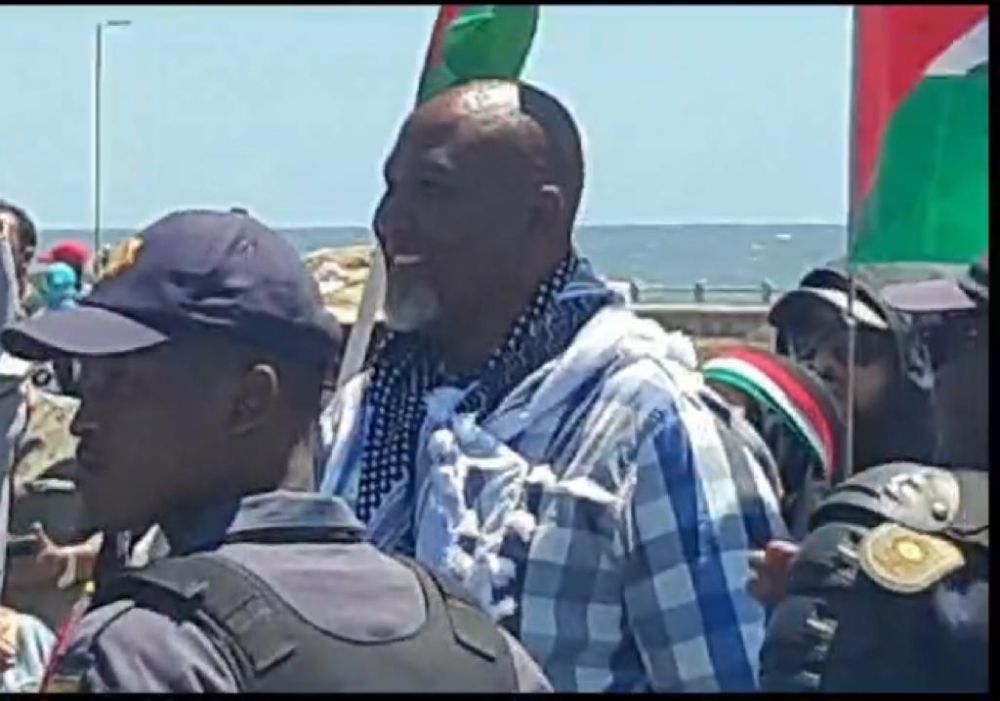 Mandla Mandela (with checked shirt) at yesterday's disrupted prayer event
"Cape Town/ SA has crossed a line. we always knew there were Islamic militants around but have never experienced real violence or antisemitic attacks.
"The Israeli Gaza War has triggered unbridled hatred and violent threats and actions. Of course the ANC government support of Hamas emboldens them," said Myburgh.
She said the Jewish community is "very rattlled" and she expects an increase in aliyah [immigration to Israel] from SA.
Christian singer and pastor Heinz Winckler says in a video [see below] made about the disrupted prayer rally that some Christian supporters of Israel later held a time of prayer together at the Cape Town stadium.
SAFI says in a statement released last night that it condemns the "militant and unconstitutional disruption" of yesterday's planned prayer rally and calls for urgent intervention by the SA government to protect freedom of speech and assembly.
SAFI is one of the organisers of a proposed rally at the Union Buildings, Pretoria on Sunday November 19 to "declare the Biblical promises regarding Israel and pray for our beloved country South Africa".
Last night's SAFI statement continues: "The South African Friends of Israel (SAFI) condemns the forced shutdown of the Concerned Clergy Western Cape's prayer rally, organised to foster peace and unity in Israel among individuals from diverse faiths. The intervention by the South African Police Service (SAPS) became necessary due to safety concerns arising from the presence of Hamas supporters after they began assailing the police with projectiles.
"The unauthorised assembly of Hamas supporters, marked by the display of flags associated with extremist groups including Hamas, Hezbollah and ISIS, disrupted the event by engaging in violent behaviour when asked to disperse. Tragically, their actions led to the cancellation of the prayer rally, and attendees had to be escorted away for their safety. One member of the public had their finger broken as Hamas supporters tried to steal his Israeli flag. Several instigators were arrested at the scene. Video footage of this gross violation of South African human rights is available below, with Mayor Geordin Hill-Lewis' statement on this abhorrent behaviour.
"Witness accounts confirm that Christian women attending the prayer rally were physically assaulted and followed by men wielding Palestinian flags. Members of the Jewish community intervened quickly to escort these Christians away from Seapoint in separate vehicles to ensure their safety.
"SAFI condemns this violent disrespect of South Africans' right to freedom of speech and peaceful assembly, as outlined in our Constitution. Under Section 17, 'Everyone has the right, peacefully and unarmed, to assemble, to demonstrate, to picket and to present petitions' and under Section 16. (1) 'Everyone has the right to freedom of expression, which includes — (a) freedom of the press and other media; (b) freedom to receive or impart information or ideas; (c) freedom of artistic creativity; and (d) academic freedom and freedom of scientific research.'
"The Concerned Clergy Western Cape sought to create a space for diverse communities to come together peacefully, and it is appalling that this vision was met with such violent and aggressive action by members of Pro-Palestine groups. This comes after a number of physical assaults on Christian people praying for Israel outside parliament last week.
"One of the organisers of the prayer rally, Vivienne Myburgh of the International Christian Embassy Jerusalem (ICEJ) said that she was 'appalled that the rights of Christians and other faiths were undermined in our democracy'. Hamas, known for suppressing freedom of speech in other parts of the world, seems to have influenced its supporters on South African soil. One Hamas supporter interviewed on SABC refused to condemn the actions of the mob stating that 'any Israeli flag is not welcome in South Africa' and that they should be 'burnt'.
"SAFI urges SAPS to thoroughly investigate this incident and take appropriate action against those responsible for such needless and heinous violence.
"As an organisation committed to fostering understanding and cooperation, SAFI calls on all South Africans to condemn this horrific violence and extremism. It is our collective responsibility to uphold the values of peaceful dialogue and coexistence, as enshrined by our constitution, to ensure that the rights of all South Africans are protected, respected and upheld."
In a statement on yesterday's events in Sea Point, Cape Town mayor Geordin Hill-Lewis said the "violent disruption" of yesterday's planned peaceful prayer gathering in support of Israel "deserves the condemnation of all Capetonians who value free expression in our open democracy".
He said: "While residents or groups may disagree vehemently with one another, they may not engage in violent disruption. We call on all residents to desist from doing so."
The South African Zionist Federation Cape Council Chairperson, David Cohen, said in a statement they had wanted to stand with their Christian Zionist friends in Sea Point yesterday to "pray for peace and the return of the 239 hostages" currently being held captive by Hamas.
"The fact is that a democracy is judged on how well it protects the rights of all of its citizens, even those who do not share the opinions of the government. 50 000 people marched on Saturday in Cape Town chanting slogans for Palestine. I can assure you, no one there was worried that it was going to be broken up by pro-Israel forces. We condemn the violence perpetrated yesterday and call on all levels of government, from municipal to national, to join us in condemning the use of violence and intimidation to prevent the free gathering of people in this democracy," said Cohen.
In a press release, the SAZF says: "It is deeply regrettable that the actions of this anti-peace faction led to the cancellation of the prayer rally, forcing attendees to be escorted away from the scene out of concern for their safety. A number of Christian women were severely traumatised after being physically assaulted and followed by Pro-Palestinian men. Members of the Jewish community intervened quickly, to remove them from the area using separate vehicles."
Click here to KEEP UPDATED on the latest news by subscribing to our FREE weekly newsletter.
> Please support Christian media and journalism in South Africa. Help us to spread the Word of God and take a stand for the truth by making a donation to our ministry. We appreciate your support. Click here to take hands with JOY! Magazine. 
---
Date published: 13/11/2023
Feature image: Police clash with militant Palestine protestors at Sea Point yesterday
DISCLAIMER
JOY! News is a Christian news portal that shares pre-published articles by writers around the world. Each article is sourced and linked to the origin, and each article is credited with the author's name. Although we do publish many articles that have been written in-house by JOY! journalists, we do not exclusively create our own content. Any views or opinions presented on this website are solely those of the author and do not necessarily represent those of the company.