Written by: Stephanie Ma 
Article source: religionunplugged.com
The suspect of a fugitive murder case that sparked months of mass protests over an extradition bill in Hong Kong has been released from prison, amidst a rare diplomatic feud with Taiwan over how to handle his voluntary surrender.
The Hong Kong resident, 20-year-old Chan Tong-kai, is accused of murdering his girlfriend, 19-year-old Poon Hiu-wing during a romantic getaway in Taiwan last year.
Wearing a navy blue shirt and a red backpack, he was released from Pik Uk Prison in the city's rural district Sai Kung shortly after 9.a.m., after 19 months in custody for money laundering charges from the cash and valuables he had taken from Poon.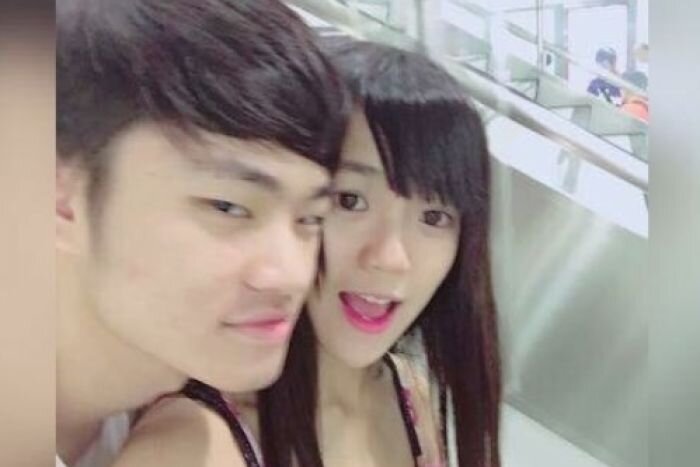 Chan Tong-Kai, now 20, and his then-girlfriend Poon Hiu-wing, 19. Photo from Facebook.
He was initially sentenced to 29 months in prison, but was released on Wednesday 23 October on good behavior.
Chan converted to Christianity in prison and was accompanied by Reverend Canon Peter Koon Ho-ming, an Anglican priest from Hong Kong who visited him regularly in jail and persuaded him to voluntarily surrender to Taiwan. Koon Ho-ming declined requests for comment and is known to support the Communist Party over the leaderless pro-democracy movement.
Chan said he had made an "irreversible mistake."
"I have brought [Poon's family] immense agony and sorrow. For my impetuousness and the mistakes that I made, I am willing to surrender myself to Taiwan to face trial and serve my sentence there," Chan said, bowing deeply.
He added that he hoped this could somewhat relieve the pain of Poon's parents and she could rest in peace.
Chan also thanked his parents for their care and support, and for never abandoning him.
"To our society and Hong Kong people, I can only say sorry. I hope you can forgive me and give me a chance to start my life afresh, and give back to the society," he said, before bowing for the second time and leaving with Koon in a white seven-seater vehicle.
Earlier this week, local and Taiwanese authorities have clashed over the handling of Chan's case.
Taiwan's Mainland Affairs Council initially rejected Chan's surrender offer, declining to grant him entry until it is compiled with judicial procedures.
"According to the Hong Kong side, if we request for evidence concerning Chan's surrender, it will actively cooperate, but it also said that there are currently no laws for cooperating with Taiwan on criminal justice," said the council said in a statement, "We intend to ask the Hong Kong government, how are authorities going to provide assistance to us, given the statements are so contradictory?"
In a second statement released, Taiwan said it wanted to send officers to Hong Kong to escort Chan back to the island upon his prison discharge – a move that the Hong Kong government has called "unacceptable."
"The HKSAR Government sees it as cross-jurisdiction law enforcement, which is a disrespect for Hong Kong's jurisdictional power and is totally unacceptable," the government said in a statement released at midnight Wednesday.
It added that it strongly objected Taiwan's allegation that Chan's decision to surrender was made out of political maneuvering, as "the government has done its best to bring justice to the victim."
No formal details concerning Chan's return to Taiwan has been disclosed yet since his prison discharge.
Chan had allegedly hit the then-pregnant Poon's head against the wall, and later strangled her to death during a romantic getaway in Taiwan last year, after she revealed to him that she was pregnant with an ex-boyfriend's child.
Poon's body was stuffed into a suitcase and dumped inside a thicket of bushes at a park near Taipei's Zhuwei train station. Chan was arrested by local police upon returning home, immediately after Taiwanese authorities discovered Poon's body. As Hong Kong currently lacks an extradition treaty with Taiwan, he was not convicted of murder. 
Citing the Chan's case, Hong Kong's embattled leader Chief Executive Carrie Lam Cheng Yuet-ngor proposed in February the amendment of the current extradition bill law, which would have allowed local authorities to send fugitives in the semi-autonomous region to stand trial in jurisdictions with less robust legal systems such as mainland China.
The proposal – now officially withdrawn from Hong Kong's legislative agenda – is largely seen in the city as Beijing's steady encroachment to the city's civil liberties as it increasingly tightens its grip on democracy movements, lighting the fuse of the political turmoil that has plunged the city into four months of mass protests with no signs of stopping.
Weeks of contentious protests have since evolved into a full-fledged democratic movement, as protesters demand for greater democracy and police accountability, among other things.
Click here to KEEP UPDATED on the latest news by subscribing to our FREE weekly newsletter.
---
Date published: 29/10/2019
Feature image: Chan Tong-Kai
DISCLAIMER
JOY! News is a Christian news portal that shares pre-published articles by writers around the world. Each article is sourced and linked to the origin, and each article is credited with the author's name. Although we do publish many articles that have been written in-house by JOY! journalists, we do not exclusively create our own content. Any views or opinions presented on this website are solely those of the author and do not necessarily represent those of the company.