You and your pooch are invited to the fourth annual Paws on the Promenade – a dog walk fundraiser in support of the Mdzananda Animal Clinic in Khayelitsha.
On Sunday the 17th of March at 9:00am, join in the fun as pets and owners strut their stuff along the beautiful scenic route of the Sea Point promenade. Starting at the Mouille Point light house, the route will extend to the Sea Point swimming pool and back – a total of five kilometres. Shorter turnaround points for old, tired and injured pets (or humans) will also be available.

Previous Paws on the Promenade events
"Our 2018 Paws on the Promenade was a great success with an attendance of 300 dogs and 464 humans. On a budget of just R1685 we were able to raise a total of R29 000 in profit. We hope to raise even more funds with this year's event, but it all depends on how many wonderful dogs and humans join us for the walk," says Marcelle du Plessis, Fundraising and Communications Manager and event organizer.
Everyone is invited; humans without four legged friends are welcome too.
The event is hosted in partnership with Vondi's Holistic Pet nutrition who will be sponsoring 200 goodie bags for the first 200 dogs to arrive on the day. Raffle prizes and products will be for sale and delicious coffee and ice cream will be available for purchase to get you started.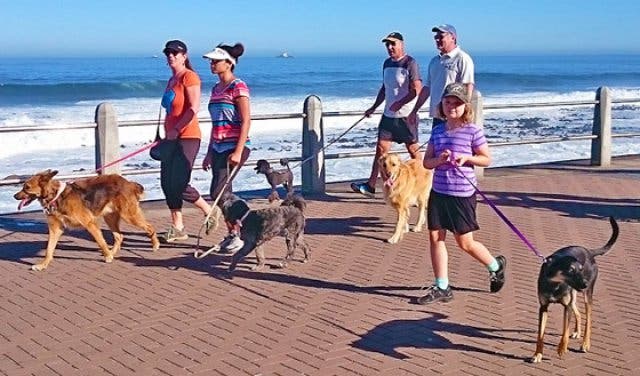 Previous Paws on the Promenade events
Dress up like your favourite animal or wear something orange.
Time: 09:00 am
Registration: 08:00 am – 09:00 am
Price: R50 per person / R50 per dog / R25 kids under 12
Tickets: Available on qkt.io or on the day
Dress: Like your favourite animal
Make sure to bring caps, water and sunscreen.
Goodie bags for the first 200 dogs to arrive on the day.
All dogs need to be on leads.
Coffee, ice cream and raffle prize up for grabs.
Video from last year's event:
About Mdzananda Animal Clinic
The Mdzananda Animal Clinic is a permanent, veterinary council registered, NPO animal clinic in Khayelitsha, a township just outside of Cape Town, South Africa, home to 400 000 people (2011 census) and their pets. The clinic serves an average of 700 animals per month through consultations, hospitalization, general and orthopaedic surgeries, continuous sterilizations, mobile clinics and an animal ambulance. Mdzananda has a strong focus on community empowerment and education to ensure responsible pet ownership into the future.
For more information visit www.mdzananda.co.za or join our Facebook event at www.facebook.com
---
Date published: 14/03/2019
Written by: Marcelle du Plessis
Article source: Supplied