Written by: Andre J Lombard
Article source: Supplied 
A capacity crowd at the International Stadium in Yokohama bore witness to Siya Kolisi lifting the Rugby World Cup trophy on behalf of his country, for a record equalling third time.  Having completely outplayed their English counterparts on the night, the Springboks ensured that the William Webb Ellis Cup will call South Africa home for the next four years.
The South African approach to the entire tournament, and indeed the final, was based on physical dominance, thorough preparation, accurate use of the boot and a sense of playing for something bigger than themselves.  Given the background of this beautiful country, being crowned as champions will almost certainly add to the much-needed ideals of national pride and unity.
Those who observed captain Kolisi holding the trophy aloft may have noticed the strips of white tape around his wrists.  While this is not at all uncommon on a rugby field, it was the word that was printed boldly on the tape that suggested that perhaps that many Springboks were indeed playing for something bigger than themselves, or even national pride.
The word was Jesus.  One word that meant enough to the captain of the best team in the world, to proudly display it to an estimated global television audience of 400 million people.  It is thus obvious to assume that this man is steadfast in his faith since making a decision in 2015.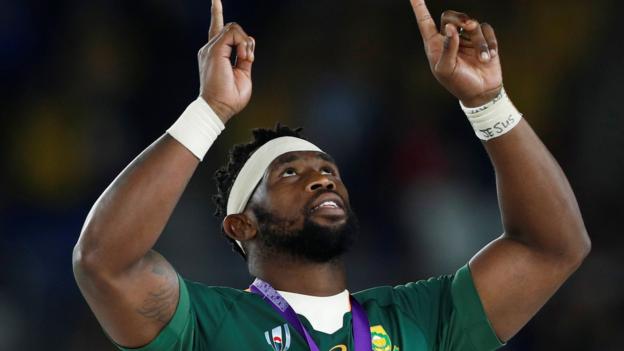 In an article written for Sport Go Mag, Siya Kolisi wrote about finding his way back to faith:
"God has been preparing me for such a time as this. While struggling with a lot of things personally — temptations, sins and lifestyle choices — I realized I wasn't living according to what I was calling myself: a follower of Christ. I was getting by, but I hadn't decided to fully commit myself to Jesus Christ and start living according to His way.
Walking alongside a spiritual mentor, I've been able to discover the truth and saving power of Christ in a whole new way. This new life has given me a peace in my heart I'd never experienced before. Now that I have given everything to God, nothing else affects me. I now live and play with the freedom of knowing His plan will always happen, and at the end of the day, that's all I care about!"
In an interview with Joy Magazine, Kolisi was asked how he remains strong in his faith and his walk with God, while being part of the rugby fraternity.  His response suggests that his spiritual position is not unique within the all-conquering squad of 31 men clad in green and gold.
"The temptations are real, at times we all struggle and make mistakes. The best is to always surround yourself with Christians – there are many in the team. They will encourage you, build you up, and will always keep you accountable. We have Bible studies as a team and often pray together. I try to also read the Word as much as I can when I am alone, every single night before bed. I also love reading devotionals!"
The relatively diminutive, but absolutely electric scorer of the match winning try in the final, Cheslin Kolbe, is another member of the team that follows the same path as the one chosen by his skipper.  Moments after the defeat to New Zealand in the opening pool fixture, Kolbe could be seen on one knee, head bowed, alongside the All Black's Ardie Savea, himself a nominee for world player of the year.  After numerous journalists captioned the photograph as 'camaraderie in rugby', it was Savea who pointed out via his Instagram account that the pair were in fact deep in prayer, giving thanks for their many blessings.
In response to a question during a press conference in Japan, Kolbe was asked if he was worried about the ankle injury that kept him out of the semi-final.  The winger was quick to reply that his faith was strong and that God enabled him to be ready for the final, evident in the way he left England captain Owen Farrell for dead while going on to score the clincher.
Head coach Rassie Erasmus has also spoken openly about his faith and how big a role it plays in the team.  He has echoed Kolisi's comments about bible studies and prayer meetings being part of the team culture.  Numerous other players have made it clear; whether it be through interviews, gestures, symbols or prayers, that they are committed Christians.
The Springboks deservedly won the world cup, and with it, the hearts of many millions around the world.  The hope is that their culture of faith becomes as prominent as their on-field dominance.  A global example of the potential within a group, within a demanding environment, within a country, when being led in the right direction.
Click here to KEEP UPDATED on the latest news by subscribing to our FREE weekly newsletter.
---
Date published: 21/11/2019
DISCLAIMER
JOY! News is a Christian news portal that shares pre-published articles by writers around the world. Each article is sourced and linked to the origin, and each article is credited with the author's name. Although we do publish many articles that have been written in-house by JOY! journalists, we do not exclusively create our own content. Any views or opinions presented on this website are solely those of the author and do not necessarily represent those of the company.